Happy birthday Kitform you are 20 years old (we're buying the cakes)
Posted on March 20, 2013 by admin | Posted in General. Bookmark this page.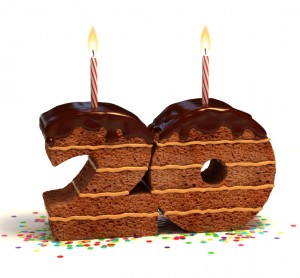 Kitform are 20 years old this year. Founded way back in 1993 when the Conservatives ran the country, John Smith was leader of the Labour party, Graham Taylor was England manager. Les Dawson and the great Bobby Moore died in this year.  Three members of boy band One direction entered the world in preparation for stardom. Prince Charles and Diana split and Ford launch the new Mondeo.  The Queen opens her humble abode (Buckingham Palace) to the public.
It now seems so long ago looking back, but some things don't change, popular merchandise in 1993 was pens, mugs, notepads and 20 years on, they're still perennial favourites!
Our philosophy of being accommodating and offering fantastic customer service has served us well. We would like to thank most sincerely the Companies and Organisations who are still with us and look forward to achieving our next milestone.
As it's our birthday we would like to give you 10% off your order if you spend over £250.00 + vat before the end of March you must quote KIT20 and like us on Facebook.

1993     20   2013
View other articles:
Brand new Sourcing portal →